I'm sure by now you've seen the young man from a Texas hotel politely turn away a female patron due to an uncalled-for (and racist) remark that she made over the phone before arriving at his hotel. In the clip, it appears that he works in guest services.  After the unpleasant phone call, he recorded his in-person reaction to the patron as well, via his cell phone, to show his experience. If you haven't seen it yet, watch below. Since the incident, the young man has been praised (and gone viral) in regard to because of how he handled the situation.
https://www.youtube.com/watch?v=3dcbmAAqnVU
It's not always easy to keep your composure and professionalism when handling a disgruntled co-worker or customer. Here are some phrases to use when you've reached your boiling point.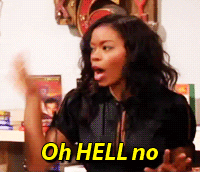 Instead of this, try this:
"If you read my last email you would know…"/"Per my last email…"
"There's nothing I can do…"/ "It's above me now…"
"I'm busy…"/ "I'm currently working on a small task…"
"I don't know…"/ "Let me look into that for you…"
"Listen to me…"/ "If I could get a moment of your undivided attention…"
"No…"/ "Unfortunately, I'm unable to…"
What are some professional phrases you've used when you've just about had it? Let me know in the comment section!
You can also share your tips with us by emailing hello@themogulmillennial.com, and we may shout you out on our social media!